Revotec Coolvin kit
Offer April
Each bespoke Revotec-koelvinkit makes use of a selection of high-quality components and a sucking or blowing high-output fan to maximize airflow. Each kit comes complete for simple do-it-yourself installation including a Revotec variable electronic fan controller. In the set are laser cut brackets that are designed for a flawless fit with no permanent modifications to your vehicle. The use of a high-power slimline COMEX electronic cooling fan with a huge air displacement and also waterproof. Available from stock for the following models, for both positive and negative Earth cars.
MGA / MGB / Triumph TR2-4A : only €229
Triumph TR5-250-6: only €235
Austin Healey 3000: only €275
Loose cooling fins are of course also available from 9 to 15 inches in both sucking and blowing.
This offer is valid up to and including 30 april 2019.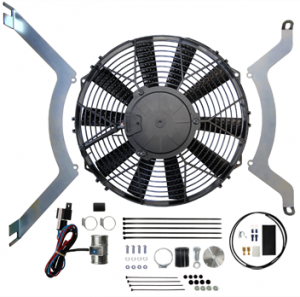 Fairs and meetings
British Carparts Day, Gorinchem

27-10-2019-

Flanders Expo

15-02-2020 - 16-02-2020-
Offer Juli
Brandnew Powerlite products
All brandnew superb Powerlite products. Alternator with multi mount front bracket (rotating,always fitting though)€199. Powerlite Lithium Ion battery PS 20 (€277)and PS 30(€313) (63 and 80 amps equivalent). Comes with laser cutted mounting bracket. Incredible small and powerfull. With built in voltage check. Powerlite universal heatshield. Multi purpose , and bendable. Great carb. Insulator. € 35. Powerlite gold heatshield 1 x 1.2 mtr. blanket €109 and heatshield (9mtr) tape € 55. Ultra heat resistant, deflects 80% of the radiant heat.! The best available . Powerlite starter motor heat sleeves. Silver at €47,Lava at €53 or Carbon at € 59. Perfect
More information...