Revotec Coolvin kit
Offer April
Each bespoke Revotec-koelvinkit makes use of a selection of high-quality components and a sucking or blowing high-output fan to maximize airflow. Each kit comes complete for simple do-it-yourself installation including a Revotec variable electronic fan controller. In the set are laser cut brackets that are designed for a flawless fit with no permanent modifications to your vehicle. The use of a high-power slimline COMEX electronic cooling fan with a huge air displacement and also waterproof. Available from stock for the following models, for both positive and negative Earth cars.
MGA / MGB / Triumph TR2-4A : only €229
Triumph TR5-250-6: only €235
Austin Healey 3000: only €275
Loose cooling fins are of course also available from 9 to 15 inches in both sucking and blowing.
This offer is valid up to and including 30 april 2019.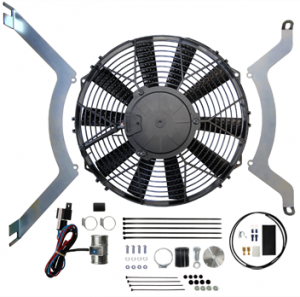 Fairs and meetings
British Cars & Lifestyle 2020

03/04-10-2020 -'s-Hertogenbosch (Netherlands)

See all events...
Collapsible steering box conversion Austin Healey
The original steeringbox of an Austin Healey is a long rigid axle. You can imagine what happens with that if you have an accident. We have developed a revolutionary product to improve safety, without changing the originality of your classic. We have fully remanufactured and collapsible steering boxes for your Austin Healey available from stock (based on the exchange of your old unit). All steeringboxes are completely overhauled and equipped with only new parts; new worm, peg, bearings, bearing seats, seals and gaskets. The steeringbox has been made collapsible with a sliding piece so that the original horn and turn
More information...