Parts from A to Z
You ask, we search. Jac, Emma and Roxanne will be happy to help you.
Traditionally, Loco Classics for the parts supplier for all British classics. Parts and accessories for the brands MG, Triumph, Austin Healey, Mini, Morris and Jaguar, we deliver directly from stock. There is also a full range available for the brands: Wolseley, Morgan, Lotus, TVR, Riley and Land rover. You can look up the needed parts in the digital catalogues with explosion drawings. You can order all your parts online and have them delivered at home, or you can get them on and visit our location in Oirschot and share your passion with us over a cup of coffee.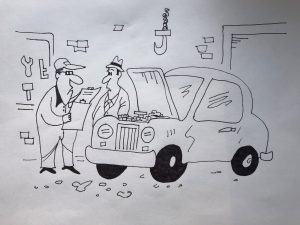 "D.N.A. tests show that the fuel pump doesn't belong to this car"
November offer
Bell Steel Fabrications
Bell Steel Fabrications is already more than 40 years the producer of top-quality exhaust systems and silencers. The Bell name is known worldwide in the classic car market because of high quality stainless steel exhaust, made by skilled craftsmen. The stainless steel exhaust Bell are praised by the perfect fit. A stainless steel exhaust Bell is the perfect upgrade for your classic car, so make now your favorite car roadworthy again for the spring, before going into the garage. MGA Stainless Set                                    
More information...
Nice dig into the catalog!
You can look up the parts needed in the digital catalogues with explosion drawings. You can order all your parts online and have them delivered at home, or you can get them on and visit our location in Oirschot
To the catalogs