Parts from A to Z
You ask, we search. Jac, Wim, Conny and Charlotte will be happy to help you.
Traditionally, Loco Classics for the parts supplier for all British classics. Parts and accessories for the brands MG, Triumph, Austin Healey, Mini, Morris and Jaguar, we deliver directly from stock. There is also a full range available for the brands: Wolseley, Morgan, Lotus, TVR, Riley and Land rover. You can look up the needed parts in the digital catalogues with explosion drawings. You can order all your parts online and have them delivered at home, or you can get them on and visit our location in Oirschot and share your passion with us over a cup of coffee.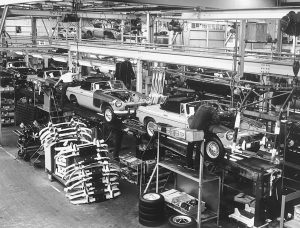 Collapsible steering box conversion Austin Healey
The original steeringbox of an Austin Healey is a long rigid axle. You can imagine what happens with that if you have an accident. We have developed a revolutionary product to improve safety, without changing the originality of your classic. We have fully remanufactured and collapsible steering boxes for your Austin Healey available from stock (based on the exchange of your old unit). All steeringboxes are completely overhauled and equipped with only new parts; new worm, peg, bearings, bearing seats, seals and gaskets. The steeringbox has been made collapsible with a sliding piece so that the original horn and turn
More information...
Nice dig into the catalog!
You can look up the parts needed in the digital catalogues with explosion drawings. You can order all your parts online and have them delivered at home, or you can get them on and visit our location in Oirschot
To the catalogs