Parts from A to Z
You ask, we search. Jac and Emma will be happy to help you.
Traditionally, Loco Classics for the parts supplier for all British classics. Parts and accessories for the brands MG, Triumph, Austin Healey, Mini, Morris and Jaguar, we deliver directly from stock. There is also a full range available for the brands: Wolseley, Morgan, Lotus, TVR, Riley and Land rover. You can look up the needed parts in the digital catalogues with explosion drawings. You can order all your parts online and have them delivered at home, or you can get them on and visit our location in Oirschot and share your passion with us over a cup of coffee.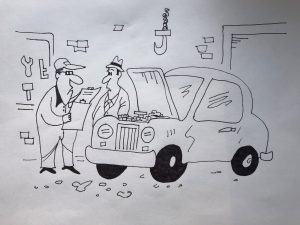 "D.N.A. tests show that the fuel pump doesn't belong to this car"
Offer April
Revotec Coolvin kit
Each bespoke Revotec-koelvinkit makes use of a selection of high-quality components and a sucking or blowing high-output fan to maximize airflow. Each kit comes complete for simple do-it-yourself installation including a Revotec variable electronic fan controller. In the set are laser cut brackets that are designed for a flawless fit with no permanent modifications to your vehicle. The use of a high-power slimline COMEX electronic cooling fan with a huge air displacement and also waterproof. Available from stock for the following models, for both positive and negative Earth cars. MGA / MGB / Triumph TR2-4A : only €229 Triumph TR5-250-6:
More information...
Nice dig into the catalog!
You can look up the parts needed in the digital catalogues with explosion drawings. You can order all your parts online and have them delivered at home, or you can get them on and visit our location in Oirschot
To the catalogs