Parts from A to Z
You ask, we search. Jac, Emma and Roxanne will be happy to help you.
Traditionally, Loco Classics for the parts supplier for all British classics. Parts and accessories for the brands MG, Triumph, Austin Healey, Mini, Morris and Jaguar, we deliver directly from stock. There is also a full range available for the brands: Wolseley, Morgan, Lotus, TVR, Riley and Land rover. You can look up the needed parts in the digital catalogues with explosion drawings. You can order all your parts online and have them delivered at home, or you can get them on and visit our location in Oirschot and share your passion with us over a cup of coffee.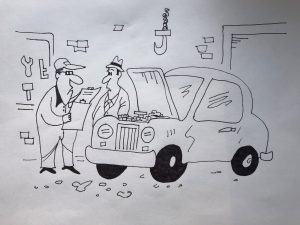 "D.N.A. tests show that the fuel pump doesn't belong to this car"
Offer Juli
Brandnew Powerlite products
All brandnew superb Powerlite products. Alternator with multi mount front bracket (rotating,always fitting though)€199. Powerlite Lithium Ion battery PS 20 (€277)and PS 30(€313) (63 and 80 amps equivalent). Comes with laser cutted mounting bracket. Incredible small and powerfull. With built in voltage check. Powerlite universal heatshield. Multi purpose , and bendable. Great carb. Insulator. € 35. Powerlite gold heatshield 1 x 1.2 mtr. blanket €109 and heatshield (9mtr) tape € 55. Ultra heat resistant, deflects 80% of the radiant heat.! The best available . Powerlite starter motor heat sleeves. Silver at €47,Lava at €53 or Carbon at € 59. Perfect
More information...
Nice dig into the catalog!
You can look up the parts needed in the digital catalogues with explosion drawings. You can order all your parts online and have them delivered at home, or you can get them on and visit our location in Oirschot
To the catalogs